Identity and Access Management Benefits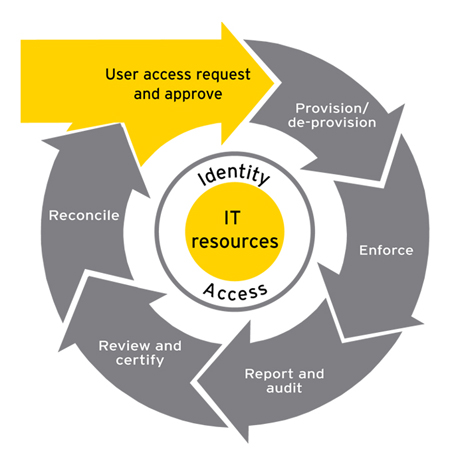 Identity and access management benefits are many and include the verification of user and device identities and management of their access to enterprise resources. Typically, IAM enables new applications and services to be accessed quickly and securely by providing the necessary user information to applications for automation and decision making purposes.
The identity and access management benefits also include a central identity database which stores the necessary information about identities and their attributes to be used by all systems for access management, gather business intelligence, and improve information security.
As companies become more aware of the identity and access management benefits for business such as compliance, or cybercrime and threat management, they implement an effective IAM program and technology, and employ skilled Certified Identity and Access Manager (CIAM) professionals to bring IAM to the forefront of their business for managing a variety of risks. If implemented correctly, an identity and access management program will provide the following benefits:
Increased Productivity
Centralization and automation of shared identity and access management processes across the organization will improve identity and access lifecycle. Automated provisioning of user access upon hiring during the on-boarding process or internal transfer and role changes will improve processing time and reduce errors which will improve productivity.  Overall, IAM services will improve user experience with efficient access provisioning processes which will improve access to resources and physical locations with little to no intervention by the IT staff.
User Satisfaction
IAM processes will eliminate confusion over the steps needed to grant and manage access which will increase user satisfaction. Concerted efforts to increase awareness of IAM services and best practices will result in a more knowledgeable user base and more realistic expectations of IAM systems.
The Identity and Access Management program will reduce complexity of the processes for end users, application owners, and system administrators. The IAM program will eliminate paper based processes and manual processes as much as possible. Automation will allow end users to review their accounts and control basic requests through self-service such as password resets. IAM services will allow users to select a unique pass code of their choice, and will reduce the burden of remembering credentials that can be used across the enterprise through single sign-on which synchronizes pass code across multiple systems.  If implemented correctly, identity and access management should be simple and intuitive to an end user.
Reduced Costs
IAM services can also reduce operating costs.  Federated identity services eliminate the need for local identities for external users, thus simplifying application administration. An improved IAM program which leverages a cloud-based service, automation, and centralized database can reduce the cost of the IAM related services.
Improved security
Identity and access management is a critical part of an organization's information security. It helps protect sensitive data and information from the ever evolving security threats. IAM solutions help enable proactive security risk identification and mitigation, allowing the organization to identify policy violations or remove inappropriate access privileges without having to waste time and effort searching across multiple distributed systems. IAM will allow the organization to confirm that proper security measures are in place to meet audit and regulatory requirements.
The ability to quickly provision and de-provision access to resources, in addition to enhanced identity assurance through features such as multifactor authentication, will improve security posture. Additionally, the organization's ability to use IAM business intelligence and identity analytics will allow for improved risk management and strategic decision making.
Information Sharing
An identity and access management program can facilitate collaboration and information sharing among business units and applications. Enabled information sharing may enable functionality, shared calendars, common data, and integrated contact lists.
The IAM program will enhance user access, and enable federated access to external systems. Through the use of authentication standards set forth by the organization, the IAM program will allow information sharing about user identity to grant access to resources. Finally, IAM can provide the organization with a competitive advantage over competitors that cannot offer the same level of ease and expediency, enticing customers, employees and related parties to collaborate with the organization.
Technology Improvement
Identity and access management benefits also include an increase in system integration and efficiency of application development, deployment, and management by eliminating the need for duplication and proliferation of vulnerable systems.
Go to workplace security from identity and access management.