3 Ways to Protect Your Documents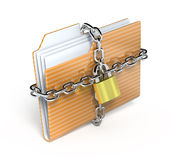 This article discusses 3 ways to protect your documents against theft, unauthorized access and changes, and recover your personal documents and pictures when they are lost or damaged. We all have important files, pictures and videos that we must protect. Some of these files are stored on our home or office computers, external storage devices, or our cameras and camcorders. Regardless of where important documents are stored, they must be first identified in terms of their importance level and location, and then incorporated into the overall document protection strategy. Below you will learn about 3 ways to protect your documents which you can customize to align with your document protection strategy.
Backup Your Files - As you create or download documents on your personal computers, it is very important to backup up these files on a secondary storage device just in case your primary storage device (your computer) crashes. This also applies to your pictures and videos stored on your camera's internal hard drive or memory card. Nowadays, we can save a huge number of photos and hours of videos on our phones, cameras and camcorders. Just imagine trying to access your video files one day and notice that your camcorder is not working and after your check with a camcorder repair shop, you realize that the precious videos of your kids growing up have disappeared or won't open. The same goes for all your files on the computer. What if your computer permanently crashes and you lose all of your files? This is why you need to regularly back up your document folders. The best way to back up your files is to automate the backup process and forget about it. Buy an external storage device such as the Seagate backup desktop drive, connect it to your computer, and adjust the settings to automatically backup the selected folders on your computer on selected days and times. The backup frequency that you select depends on how often you access and update your computer folders and files. If you change or create files daily, set the backup frequency to daily so that you have a full daily back up.
PS. Don't forget to download your pictures and videos from all your devices such as ipads, ipods, iphones, cameras and camcorders regularly and save them to the selected backup folders to receive the most benefit.
Use Secure Storage Devices – If you travel often and use external devices to store and/or backup your files on the go, make sure you use a secure storage device such as the Apricorn Aegis encrypted and PIN protected secure drives. I actually use the Aegis secure flash drive to store files on the go, and then back up the files to my computer and ultimately Seagate backup drive. They both work perfectly.
Password Protect Your Files – Another important component of file protection is to use password for opening files. You can search on Google about how to add a password to your Excel or Word documents. By adding a password, you will have to enter a code to open a file each time and if by accident your files are obtained by others, they will be unable or have challenges to access your files quickly.
Return to home page after reading "3 ways to protect your documents".