Identity Theft Courses & Tests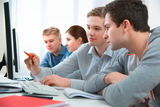 Identity Management Institute (IMI) offers a few identity theft courses which are global in nature, registered, and specifically created for professionals who serve very distinct markets.
As you know, identity theft is a growing threat which is affecting many businesses and millions of people each year costing us collectively billions of dollars in identity fraud losses. Whether you are looking for a certification training course for yourself or your employees, you will find a growing number of identity theft courses offered by IMI to help you achieve your goals. Course materials are created by some of the leading experts in the field and are offered in a variety of formats. IMI also creates free training videos and supports other content providers such as this website to raise general public's awareness and education level. 
Based on some of our website visitor feedback, we understand that identity theft courses must be:
a) Affordable,
b) Concise, up to date, and to the point,
c) Complete and effective,
d) Accessible from anywhere, and
e) Produced by experts.
With the above objectives in mind, Identity Management Institute created the best identity theft courses for the community which continue to evolve and improve.
We hope that you will benefit from these identity theft training services to achieve your personal and business goals. To reduce fraud risks and costs or to meet your compliance needs, employees will greatly benefit from the identity theft courses listed below. More specifically, businesses in regulated industries which must provide evidence of employee training and employ qualified professionals, will benefit by engaging IMI to provide employee training and certification.
Identity Theft Courses
Certified Identity Protection Advisor (CIPA)® - Identity theft affects businesses and their customers. By employing CIPA professionals who can educate, guide, and support customers, businesses will be able to prevent or quickly detect and resolve identity theft in order to lower their identity fraud losses, offer value added benefits, attract new customers, and ensure the loyalty of existing customers. In essence, CIPA is a customer centric identity theft management training and certification program which is geared for customer facing employees of businesses where there is an increased risk of identity theft, including small businesses. Visit the CIPA page to learn more and watch a short video.
Certified Red Flag Specialist (CRFS)® - As consumer information continues to be stolen in large data breach incidents, companies increasingly face the threats and consequences of identity theft regardless of how or from where the identity theft victims' personal information was obtained. Defrauding businesses is the main objective of identity thieves and well trained CRFS professionals can help organizations detect signs of identity theft (red flags) and prevent fraud in order to minimize losses, protect potential victims, and comply with the regulations.
The Certified Red Flag Specialist® (CRFS) designation is the leading registered workplace identity fraud prevention training and certification program developed based on US government approved techniques as outlined in the Red Flags Rule and rigorous examination by Identity Management Institute® (IMI). Visit the CRFS page to learn more and watch a short video.
Certified in Data Protection (CDP)® - Most businesses collect some type of personal information form their customers in the course of their business transactions which can be attractive to identity thieves. The protection of personal information collected from customers or other sources for business purposes is usually governed by privacy laws which must be respected. As such, CDP is a comprehensive data protection training and certification program which aims to protect any business or personal data by leveraging industry information security standards and privacy laws. Visit the CDP page to learn more and watch a short video.
We hope that you will benefit from these identity theft training services to achieve your personal and business goals.
Free Online Tests
Our free identity theft tests offer quick assessment of your knowledge in certain areas and shortly after you submit your answers, you will receive an email with the correct answers. We hope that our free identity theft tests along with the quality identity theft courses listed above will further satisfy the needs of our visitors.