CIPA Practice Exam Questions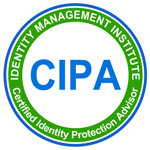 Thank you for taking the Certified Identity Protection Advisor® or CIPA practice exam. This leading international identity theft management training and certification program was specifically designed to educate and certify professionals who educate, guide, and support consumers to prevent, detect and resolve identity theft.
Professionals seeking the CIPA® designation typically help consumers manage identity theft risks as part of their jobs or through their services and products. Such individuals typically include employees of government agencies, credit bureaus, as well as financial services, insurance, health care, banking, social media and identity protection companies. In addition, consumer facing professionals such as attorneys, office organizers, tax preparers and accountants who collect or manage the personal information of consumers may also benefit from this identity theft management training and certification program by providing additional value to their clients and gaining their trust.
These 10 practice questions should give you a flavor for the real online exam which includes 100 similar multiple choice questions. The correct answers to these questions will be e-mailed to you shortly after you submit the form.