Certified Identity and Access Manager (CIAM)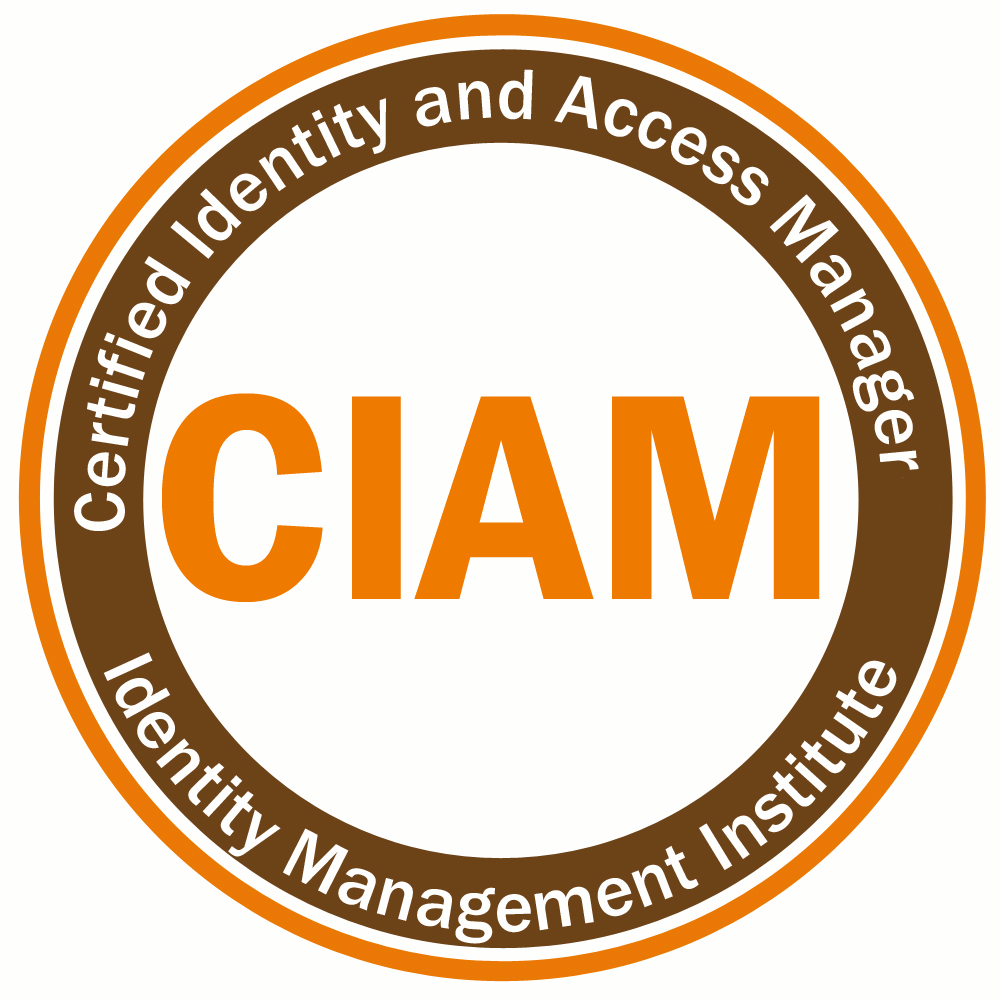 Certified Identity and Access Manager® (CIAM) is a registered professional designation developed and administered by Identity Management Institute (IMI) based on specific Critical Risk Domains (CRD). 
The CIAM® designation is created for experienced professionals who understand identity and access management risks and are capable of designing and managing programs to address identification and authentication, access management, privacy, security, and compliance needs of their organizations. The CIAM designation is an all encompassing identity and access management certification which is vendor-neutral and demonstrates an individual's professional capabilities as well as commitment and adherence to international standards.
CIAMs are leaders who contribute to the identity and access management efforts of an enterprise and help their organizations and clients in a variety of ways to reduce and manage risks. Such experts may work within fields such as information security, access administration, audit, physical security, privacy, compliance, fraud, project management, human resources, customer service, operations, risk management or identity management technology. 
The collective identity management practices of various groups and professionals throughout an organization strive to ensure that an identity is complete, accurate, valid, approved, readily identified, secured, granted proper logical and physical access, monitored through its lifecycle, and deactivated upon its useful life. 
The CIAM designation indicates to company insiders as well as outsiders such as customers and vendors that the CIAM credential holder is not only aware and capable of managing identity and access risks within his or her job domain, but also understands the risks that everyone else is attempting to manage within their job functions and thus collectively help reduce and manage enterprise in a synergistic manner.
Identity Management Institute has published a for the Certified Identity and Access Manager (CIAM) designation which can be downloaded from the website. The CIAM overview document defines identity management objectives, points out various business functions with identity management responsibilities and practices, and provides details regarding the CIAM training program and certification process including the Critical Risk Domains (CRD) which highlight the areas of responsibilities.
Certified Identity and Access Manager CRDs
The following have been identified by IMI as the Critical Risk Domains (CRD) for the CIAM designation:
Strategy and Governance
Program Management
Lifecycle and Transformation
Access Request and Approval
Provisioning and De-Provisioning
Enforcement
Auditing and Reporting
Access Review and Certification
Account Reconciliation
Tools
Application Process
Currently, interested candidates may become certified without an examination by submitting an application which includes a pre-qualifying point system to ensure candidates have the required experience and education, and requires a written statement to assess a candidate's risk management and communication skills. 
To be certified, an applicant must 1) be an IMI member, 2) be a professional with 60 qualifying points based on experience and education, and 3) submit a written statement for assessment.
Visit the Certified Identity and Access Manager (CIAM) page to learn more and access the application.