Certified Identity Protection Advisor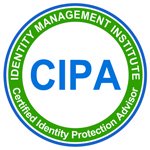 The Certified Identity Protection Advisor ® (CIPA) designation is a registered trademark of Identity Management Institute® (IMI) which is filed with the United States Patent and Trademark Office.
IMI is an international organization established to redefine and promote the identity management field, serve the identity management professionals, increase identity risk awareness, and provide identity risk management standards, guidelines, training, examination, and certifications. Identity theft risks are greater today than ever before; not only identity theft is easier to commit due to the technology advancement, Internet, and proliferation of personal information, but also because consumers lack the knowledge about the best identity protection practices and available solutions in the market.
The CIPA® identity theft certification program is established to offer an identity theft protection training course, and formally test the identity theft management knowledge level of those individuals seeking this identity theft risk management certification.
The CIPA® Critical Risk Domains (CRD) define the specific knowledge and experience areas for identity theft risk management knowledge, identity theft testing and certification. The CIPA Critical Risk Domains are:
1) Awareness
2) Rights & Obligations
3) Identity Protection Framework
4) Risk Management
5) Theft & Fraud Prevention
6) Fraud Detection
7) Consumer Reports & Scores
8) Investigation & Resolution
9) Relationship Management
10)Services & Resources
Who should become a CIPA®
Identity theft is an evolving threat to all individuals, and as such, everyone is vulnerable and must proactively implement best practices in daily activities to reduce identity theft risks. Any one who educates, supports and solves consumer identity theft challenges can greatly benefit from studying for and taking the Certified Identity Protection Advisor ® (CIPA) examination as they will learn to protect the identities of their families, employees, and customers. More specifically, by becoming a CIPA® and gaining knowledge in consumer identity theft risk management, employees, agents and affiliates of various companies which serve consumers as well as identity protection companies, and consumer information reporting agencies can help their customers prevent, detect or resolve identity theft, increase their identity theft management credibility, improve their careers, and gain the trust of consumers who rely on their expert services for solving their identity theft concerns. In addition, consumer facing business owners who deal with their clients' personal information such as professional office and document organizers, tax preparers, attorneys, can add additional value to their clients by demonstrating identity theft management certification and identity protection expertise.
Benefits
There are many benefits to obtaining a Certified Identity Protection Advisor ® (CIPA) designation. This identity theft certificate increases an individual's identity protection skills, validates the identity protection knowledge, and provides a distinguished identity theft credential for a service edge. This identity protection certification is not only appropriate for professionals working in the consumer information management, identity monitoring and protection or fraud resolution fields but also consumer facing business owners such as professional organizers, tax preparers, and others can greatly benefit by providing additional value to their existing clients or attracting new customers in their respective fields.
Cost
The cost of the examination is $100 but you must be an IMI member before you can take the test. Membership application fees are $95 and annual membership dues depend on the membership levels.
Exam Process
Once you are a member and pay the appropriate exam fees, you will receive the Certified Identity Protection Advisor ® (CIPA) Study Guide by e-mail. You will have one year to study and take the exam. Within a year of your purchase and when you're ready to take the test, let IMI know and the test link along with the pass code will be sent to you. As the test questions and pass codes change regularly, IMI sends the test information when requested, but you must complete the test within a year of your purchase.
Certification Maintenance
To maintain certification, CIPAs must be members in good standing, obtain and submit 90 hours of continuing education every 3 years, and adhere to IMI ethics standards.
For more information, visit the Certified Identity Protection Advisor® (CIPA) page.