Check Fraud Tips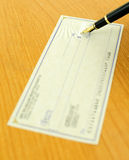 This article provides an extended list of check fraud tips to help the reader prevent check fraud which can negatively affect a person's bank account as check fraud is not committed to deposit money which would be nice but rather to withdraw money from a victim's account. Although improved technology has allowed fraud management experts to effectively fight check fraud, advancement in technology has also allowed criminals to effectively commit their check fraud crimes without being detected soon enough to prevent or contain the damage.
There are many easy ways that check fraud can be prevented or at least be made more difficult to commit. For example, you should consider the following check fraud tips:
1.  Always store your checks and other document containing your bank account information in a secure location. Checks are like cash and if they are allowed to be abused, cash will be directly taken out of the bank account.
2.  Order your checks only from your financial institution which most probably outsources your request to a printing company but not before a complete due diligence is performed and all agreements including Non-Disclosure Agreements are signed.
3.  Review your monthly bank statement as soon as you receive them or you may be liable for any financial losses due to check fraud if they are not reported within 30 days.
4.  Don't give your bank account information to anyone especially to strangers and scammers pretending to call from your bank. They can use the information to create counterfeit checks.
5.  Do not place bill payments in your mailbox way before the mail is picked up. Your mail can be stolen before the mailman has a chance to pick them up.  
6.  Never write too many pieces of personal information on your checks as many people do including date of birth, social security number, phone numbers, credit card numbers, etc. which can be used to commit all kinds of other identity fraud.
7.  Don't leave the spaces available on the check blank especially the payable to and amount spaces. The check can be used by unauthorized people if it is ever lost or stolen.
8.  Never sign a check until you are ready to deposit it.
9.  When you receive your ordered checkbook, review the check numbers to make sure there are no missing checks and report any missing checks to the bank.
10.  Notify the bank if you do not receive the checks on time as they might have been stolen or lost in transit or if the checks are stolen from your home, car or office.
11.  Use permanent ink pens when writing checks so that the information can not be changed.
12.  Don't make a check payable to "Cash." If it is lost or stolen, it can be cashed without delay.
13.  Destroy cancelled or returned checks if they are no longer needed to protect the account numbers. Shredding papers is the best way to discard them if they can not be burned!
Return to home page from check fraud tips.