CIPA® Critical Risk Domains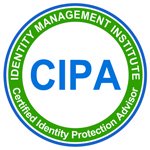 The Certified Identity Protection Advisor® designation is a leading international identity theft management certification and a registered trademark of Identity Management Institute® (IMI). The CIPA® program was specifically designed to train and certify identity theft protection professionals who educate, guide, and support consumers with their identity theft prevention, detection, investigation and resolution solutions.
The CIPA® Critical Risk Domains™ (CRD) are defined by IMI to a) identify the knowledge areas that a CIPA® must possess in order to effectively educate consumers and help them manage their identity protection risks, and b) test the candidate's understanding of identity theft risks, as well as best practices for identity theft prevention, detection and resolution. The CIPA® CRDs are as follows:
Awareness
Rights & Obligations
Identity Protection Framework
Risk Management
Theft & Fraud Prevention
Fraud Detection
Consumer Reports & Scores
Investigation & Resolution
Relationship Management
Services & Resources
CIPA® Critical Risk Domains (Details)
1)      Awareness: Before identity protection advisors can properly help consumers address their identity theft challenges, they must be aware of and understand the identity theft risks as well as the latest identity protection solutions and best practices. As identity theft threats facing consumers evolve and new fraud schemes and solutions are introduced, an up to date knowledge of such information is absolutely critical to effectively help consumers understand the risks and protect them with the best identity protection solutions and practices.
2)      Rights & Obligations: Consumers have certain rights and businesses have certain obligations in accordance with various privacy and identity theft laws. CIPAs must be aware of these laws and understand them in order to protect consumers, claim their rights and effectively resolve identity fraud. Some of these laws relate to consumer rights as well as business obligations around privacy, credit reports, and data breach notifications.
3)      Identity Protection Framework: Identity KAOS™ is an identity protection framework which offers 8 overarching principles which form the basis for an effective identity theft protection plan to: a) prevent the theft of personal information, b) detect signs of identity misuse and fraud, and, c) contain and minimize the damage inflicted as a result of the stolen information.
4)      Risk Management: An effective identity theft management plan requires the ability to think critically and assess risks to identify threats, discover weaknesses, and propose an action plan to prevent, detect and resolve identity theft. CIPAs must be able to assess a customer's identity theft situation and propose an executable action plan to meet the needs of their customers.
5)      Theft & Fraud Prevention: Proposed identity theft protection action plans must consider steps to prevent the theft of personal information and identity fraud. There are techniques which CIPAs can deploy to manage this risk domain including the use of appropriate Identity KAOS™ principles to protect personal information and disrupt the identity theft crime process to prevent fraud.
6)      Fraud Detection: Fraud detection techniques require the use of all available tools and skills for monitoring and detecting unauthorized transactions including but not limited to credit reports, account statements, account activities, and account change alerts.
7)      Consumer Reports & Scores: CIPAs must be able to understand the contents of various consumer reports including various terms and consumer scores in order to review the information, identify mistakes or unusual activities, and report findings. Certified professionals must also be able to know the methods and processes for accessing, using, and improving the reports.
8)      Investigation & Resolution: One of the increasing needs of consumers is around the investigation and resolution of their identity theft cases. Once identity fraud is discovered or reported, CIPAs must assess the case, propose an action plan, and take swift action to restore the stolen identity of their customers and help them recover damages as much as possible. Fraud resolution actions might include filing police reports, sending dispute letters, documenting identity theft cases, contacting law enforcement and other parties, and engaging other experts as necessary such as attorneys.
9)      Relationship Management: As CIPAs work diligently to meet the needs of their customers, they must coordinate and cooperate with many parties to achieve their desired goals. As such, they must possess great interpersonal skills and be able to listen attentively, communicate effectively, act harmoniously and pleasantly, and be dedicated and sensitive in order to obtain the cooperation of others and provide excellent customer service. 
10)  Services & Resources: The identity theft protection industry is constantly evolving to face new threats and meet the needs of consumers. As such, new services are always introduced, existing services are improved with new feature, and increasing number of paid and free resources becomes available which CIPAs and their customers must know about and use to increase their knowledge or automate their identity protection efforts as much as possible. 
Visit Identity Management Institute to learn more about CIPA.