Gift Card Benefits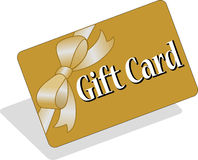 I think a store gift card is a great present to give to our friends and to ourselves. We should consider using store cards instead of a credit card for our daily, frequent and small amount purchases to prevent identity theft. As I purchase my morning or afternoon coffee, I prefer to use the store card or cash and limit the number of times I share my personal information. This even applies to other frequent and small amount purchases. As I was purchasing my coffee, I thought about how great it is to use a gift card for small purchases which do not justify using debit or credit cards.
A gift card not only can help prevent identity theft but also can limit your losses in case you lose it or someone steals it. Below is my rational for and benefits of using a store card for frequent and small amount purchases:
1) Stop carrying your credit card in your wallet – If you only use your credit card or debit card for frequent and small amount purchases, then maybe you can just leave your credit card at home and use a store card instead. In the credit card fraud section, I advocate using a credit card for major and big amount purchases only to limit your risks of identity theft but also to get rebates and protection for your purchases. It makes no sense to use a credit card or debit card for small purchases throughout the day as with each use, you increase your risk of identity theft. If you decide to use debit cards for purchases, limit the amount of cash balance you leave in my checking account in order to limit losses if your debit card and PIN information is stolen and used to empty your account.
2) Reduce amount of cash in the wallet – The use of a store card will also eliminate the need to carry cash with you all the time for those specific purchases which in turn will eliminate the need to run to the ATM for more cash each time you run out of cash. The least number of travels to the ATM will reduce identity theft risks and having less cash in your wallet will limit the amount of cash you will lose if you lost your wallet. The fact that can buy a store card with a credit or debit card, properly deals with the cash risks and issues.
3) Expose your wallet less often – Every time you want to pay by cash or by a credit card, you have to get your wallet out of your pocket or purse to get the cash or the card out and this is not a good idea since you expose your wallet to predator eyes and to potential accidental loss each and every time you get that wallet out. For example, if you only run out of home or office to get a cup of coffee, a store card can aid with identity protection and ultimately prevent identity theft.
4) Reduce the number of times your share your credit card or debit card – by using a store card, we reduce the unnecessary use of our credit card for frequent purchases and thus reduce the risks of losing our personal information and identity theft.
5) Limit your losses if your lose your card – Since we tend to store other items in our wallets like car insurance, car registration, medical identification cards, membership cards and more, we have more to lose if our wallet is ever lost or stolen, but since a store card is limited to just a few dollars and not your personal information, then losses are limited to the amount of that card balance. If the card is stored separately, then if and when you lose your card, you only lose a few bucks and not all your items in the wallet.
6) Get rebates – There are gift card deals online that will let you buy cards at lower prices than the actual card balance. I have bought cards valued at $50 for only $25. Now, this seems to me a pretty good deal; reduce risks of identity theft, reduce the probability of getting my wallet lost or stolen, limit my losses if my card is lost, stolen or affected by gift card fraud, and on top of all that, get rebates for being an identity theft conscious person.
7) Gift card swap – and, gift card exchange are now more common and the Internet has made it even easier and convenient to swap cards online. So, once you buy a card, you are not locked into a permanent card deal and always have the option to swap the card with another one.

Return from this gift card article to the identity theft prevention page.