Hacked Email Account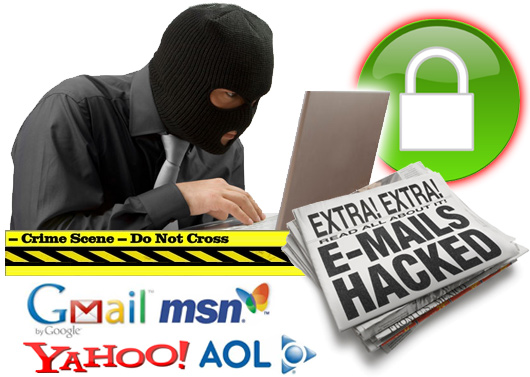 You may be facing a case of hacked email account if your friends and family members tell you that they have received emails from you but you don't remember sending them any emails. Or, maybe you want to check your e-mail, but you can't login to your email account. Sure, the email system may be down but if you can't login and you are told that you have sent emails that you haven't, chances are your email account is hacked and the email account password is changed.
This kind of unfortunate cases happen to most of us. And if you haven't experienced email hacking, you should consider yourself lucky because it's not pleasant. That said, if a hacked email account is staring in your face, don't panic. Although it may be embarrassing to have unauthorized business emails sent to your customers or inconvenient because you can't access your emails which affects your business, it's not the end of the world. The situation can be corrected and damages recovered over time.
Hacked Email Account Solutions
Hackers often hijack accounts by infecting computers with malware. So it's important to scan your computer first before taking other actions in order to prevent additional damage. If you have an installed anti-virus program, make sure it has latest updates and run it against the entire system. Then, delete anything that is identified as suspicious and restart your computer. If you don't have an anti-virus installed, buy and install one online from a reputable company. Make sure you set the software for automatic updates and system scans. You could set the scans to occur in the middle of the night when you are not using the computer in case it slows down the computer.
Next, log into your email account and change your password. If you use the same password for other accounts, change them also. Passwords are like the keys that open your accounts and you must properly select and protect them. Choose passwords that are memorable for you, but hard for someone else to guess. Some people use software that helps them manage passwords by creating strong passwords and keeping them secure.
If you try to login but you can't get into your account, contact your e-mail service provider to restore your email account. After your identity is validated, your account can be reset and you should consider using a new password. Once you are in the system, check your account settings to make sure no one has added any links to your e-mail signature, and that your e-mails aren't being forwarded to another account.
Finally, let your customers, family and friends know that your e-mail was hacked no matter how embarrassing it might be. Since a hacked email account is a common occurrence, most people would understand your situation and even sympathize with you.
Watch a short video about hacked email
Contact Identity Management Institute for employee training and professional certification.