Identity Theft Program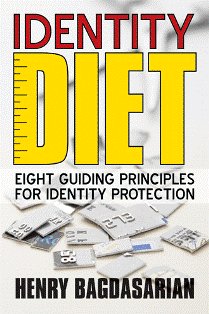 Identity Diet is a published identity theft book and mind stimulating identity theft program designed to educate and empower consumers for protecting their identities against identity theft and fraud. The primary objective of Identity Diet is to help consumers develop an identity theft protection plan by first identifying and understanding their identity theft vulnerabilities through a comprehensive assessment. After all, how can individuals start to protect their identities if they don't know what the identity theft threats are or how some of their actions might facilitate identity theft? Therefore, the first step in this identity theft program is to identify weaknesses and then develop an Identity Diet plan to address the identified weaknesses. For example, the Identity Diet assessment will help a person identify the areas in which he or she might be identity obese by collecting and retaining too many identity components. Most people collect more personal information or identity components that they can possibly handle with respect to their protection. As people (and companies) excessively collect, retain and share personal information, they become identity obese. As such, they need to take a hard look at their personal information and the way they manage them in order to trim their identity fat and apply best identity protection practices in their daily lives for properly protecting their identities.
It is said that 43% of identity theft cases can be prevented with proper protection of the physical identity components such as wallets, credit cards and documents. As such, a person can reduce the risks if identity theft by as much as 50% through self reliance and without any identity monitoring or other costly services. Most people run to the Internet and sign up for an identity monitoring service without fully understanding what the service does and thinking that identity monitoring alone will solve their identity theft problems without much of their involvement. But this is not true because identity monitoring only detects fraud and still requires the identity owner's engagement to identify and follow up on fraudulent transactions.
The Identity Diet identity theft program is built around the Identity KAOS principles and designed to help identify a person's unique identity theft risks and help create a customized identity protection plan to trim the identity fat and protect exploitable identity components through proactive efforts. Such identity protection plan always relies on the efforts of the identity owner to first change the behavior which increases identity theft risks and then leverage other services for additional identity protection and reduction of identity theft risks.
To learn more about this identity theft program, visit Identity Diet.