Jury Duty Scam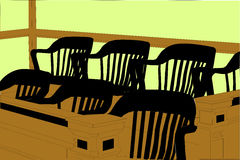 The FBI has been for some time alerting the public about the risks of ongoing jury duty scam across the country. This is just another type of scam to lure innocent people to give away their personal information for the purposes of committing identity fraud.
A typical jury service scam works like this: The jury duty scammers call people at random and claim to be court employees calling from the local court. The scammers tell the person that he or she has failed to show up for jury duty service and warn against arrest and imprisonment. The innocent person claims to have never received the jury duty letter and the scammers offer to help investigate by starting to ask a few personal questions to look up the database for any jury duty notification errors. The scammers ask for name, credit card number, social security number, date of birth, and other personal information. This type of phishing scam is particularly alerting and more dangerous because it uses fear, authority, and severe consequences such as fines if people don't cooperate.
People should be vigilant and curious about phishing scams, in particular, a jury phone scam because the courts never contact people by phone to ask for personal information, especially a credit card number. It's so ridiculous and funny to consider that not only citizens of the United States would believe they must render their patriotic jury duty service but should also provide their credit card number to compensate the courts. It doesn't make sense but some people might still provide personal information to scammers leading to their identity theft and fraud.
If for any reason you believe you have been defrauded and are a victim of jury service scam whereby you have given away your personal information to identity thieves, please place a fraud alert on your credit reports to stop new accounts being opened in your name, and monitor your credit reports and account statements to detect unauthorized transactions on your existing accounts, especially, the credit card account, number of which you have shared with the scammers.
Also contact the following agencies to alert them of the scam and protect other potential victims:

Federal Trade Commission
The US Courts

Return to home page from "jury duty scam".