Managing Linkedin Connections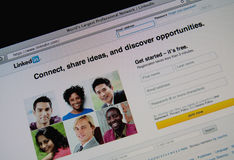 From my personal experiences, most people know very little about managing Linkedin connections. I don't mean using the Linkedin features for adding people to the network but it rather seems to me that people are in a race to have the highest number of names in their contacts list as if the longest list will get them more glory, credibility, better jobs and high salaries. The truth is that the Linkedin contacts are as valuable as the level of relationships you have built with each and every one of them. For example, what's good about a person's profile connection, phone number, email or title if you haven't even met the person or have no genuine interactions with the person at the workplace? I can go to Linkedin now and ask thousands of people to join my network, but what does it really mean to my professional life? Most people don't truly understand the purpose of Linkedin connection building. I'm sure some people have a pretty good idea of why they use Linkedin whether it's for connecting with others to keep in touch, having an updated resume online (if periodically updated) or sending messages to their contacts but the majority of Linkedin users just think of Linkedin as a way to feel important by having a long list of people even if they have no idea about who their contacts really are. Linkedin is just a tool to help us effectively manage our professional relationships. It's not a replacement for human interaction.
Managing Linkedin connections in the most effective manner requires a strategy and understanding of your purpose for using the online tool. For example, it can be used to easily access updated contact information for maintaining relationships. I want to stress again that building relationships is and should be the primary purpose of building human networks. The act of relationship building still requires human interaction and proactive efforts to help others. A contact list is just a list until it can be effectively used to reach a purpose or objective because I'm sure everyone who uses Linkedin has a well-defined objective for using the tool, right?
The mistakes people make when managing Linkedin connections are many but below is a list of items from my own observations:
1- I receive generic Linkedin invites from people I never met. I'm sure this has happened to many of you. The amazing part is when I receive invites from people indicating they have worked with me at a company, but I never met or even heard of them. Why would people I never met or heard of send me a generic Linkedin invitation without proper introductions? Why wouldn't they take the time to send a customized message or introduce themselves by phone or email and start building the relationship from the start? I assume they want to start building professional relationships by asking me to join their network. If not, then it's a waste of our time and the wrong approach in managing Linkedin connections.
2- Beside the fact that some professionals send generic invites, they actually never make the initial contact in some cases to introduce themselves. This is even worse than people we know who send us generic invitations. Before sending a connection request, contact the person and make an initial connection in person. LinkedIn can not replace the human touch and interaction.
3- People rarely thank others for accepting an invitation. I have made the same mistake a few times. But, isn't this the minimum courtesy and a requirement to show appreciation for the person's act of accepting an invitation? It all goes back to mutual respect and relationship building based on trust, professionalism, and respect without which the list is just a list.
4- Surprisingly enough, some people ask their coworkers to connect on Linkedin but continue to have the same distant behavior at the workplace as they had before their invitation and subsequent to the acceptance of the invitation. When I ask people about the purpose of their invitation, some reply, "you never know where we'll all end up in the future". This is not a strategy for building lasting and valuable relationships. Linkedin can be used to get closer to our colleagues but it can not replace the personal relationships that can be built over a friendly lunch or coffee. To me, online networking is primarily about staying in touch with genuine people who are truly interested in people and want to help each other.
5- And lastly, people connect with the wrong people when they lack purpose and objective in managing Linkedin connections. Some people may just be interested in impressing others with a long list of contacts half of which they haven't met or spoken with. Networking with the wrong people will not have a desired end result if the true objective is to build trustworthy and respectful relationships for successful careers and businesses for BOTH parties.
6- Professionals hardly ever contact their connections to interact. We should all strive to send periodic messages, make professional recommendations, endorse our connections' skills, and congratulate them for their achievements.
In conclusion, Linkedin is a professional networking site that provides many features to stay in touch with peers, get introduced to new people, exchange ideas, help others and get help. However, the features must be used effectively in order to receive the full benefits that LinkedIn offers.
One of the best ways to network with peers in a particular field is to join select Linkedin groups for professional networking. You can search for a group by typing a relevant keyword to your areas of interest or just browsing the list. If you are interested in networking with professionals concerned with identity theft risks within their organizations or for their clients, please join the Linkedin Identity Theft group.

Return to home page from "managing Linkedin connections".