Personal File Backup and Security Strategy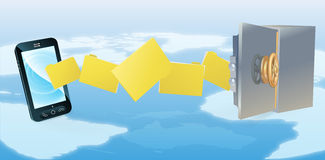 Having a personal file backup and security strategy is becoming increasingly important for many reasons. Last year, it was estimated that each US household owns about 5 Internet connected devices. Certainly, there are additional devices per household that contain personal files which may not be accounted for by market research studies. Such devices may include USB storage devices, digital cameras and camcorders, as well as old laptops, cell phones, tablets, and phablets. These devices contain some type of files that we may or may not be aware of. For example, they may contain downloaded photos and files from email and text attachments.
Most of us want our personal files to be secure and available from anywhere when we need them and perhaps we have also established Internet storage accounts or cloud storage which may also sync to our local computer folders to reflect our file changes in real time, but in order to accomplish our personal file backup and security goals effectively and efficiently, we must first ask ourselves the following general questions:
What devices and accounts do I own?

Where are they?

What files do I have stored on them? and

How can I better manage them and reduce my risk?
You must answer the questions 1 through 3 for yourself as the answers are only known by you. However, there are some common practices that we can apply to address the question 4 above and better manage our files to make sure they are secure and available when we need them.
As you think about and answer some of these questions, you realize that you have many devices, often 5 or more in a household, which perhaps contain thousands of files, songs, pictures and videos. You may even have a backup of some of these files somewhere in the cloud, or on multiple USBs and devices some of which you no longer know where they are let alone what you specifically stored on them. Let's list again some the devices that may contain important files:
Digital cameras and camcorders
Consider the list above and think about the devices that your household owns and where they might be. While you locate and gather these devices, below are some of the main reasons that we want to have a personal file backup and security strategy. It's probably not easy at first to get organized when we have been unorganized for such a long time, but once we list our devices and files, and implement a strategy and process to backup and secure our files, we will be and feel much more in control. So, here is the list of reasons why we should have a personal file backup and security strategy:
Protect our documents and photos,

Be able to recover our files when they are lost or stolen,

Having access to our files online and offline,

Manage our file changes in real time,

Store all information in one location,

Get the best services which meet our budget and needs,

Sync all files on all devices and locations no matter where the change is made, and

Be able to selectively share with friends and online.
Now that you are convinced about the need to get organized and have a personal file backup and security strategy, you have to assess a few things in order to design and implement a the strategy:
Identify the devices and backup accounts you own which we already covered above,

Identify for what purpose you own each device or account. You may own a tablet which you and your family uses to browse the Internet but there is no documents or photos stored on the device (low risk device),

Identify what files you store on each one,

Assess whether you need to store those files on the device or account. For example, you may already backup your photos on a cloud account or a USB device and may not need another backup copy,

Assess the frequency that you access and/or update the files,

Assess the confidentiality nature of the documents. This is important because we may decide that select files are not worth the risk of cloud storage but should rather be stored on an encrypted USB, and

Decide where you should backup your files.
At this point, do you know what devices you have, where they are, what you have stored on them, and whether there is a backup somewhere? These are very important questions to answer before your life becomes even more convoluted, difficult, and time consuming to organize. But don't worry if you can't answer all of these questions at first because if you are still reading this article, it means that you are somewhat concerned and interested in organizing your life which will motivate you to ask yourself some hard questions and then find an answer to address your personal file backup and security. Let's explore some more personal file backup and security considerations below.
Final thoughts on personal file backup and security:
Have a strategy before you take any action which may place you at even a greater risk. For example, consider the following: a) 

do you need access to your files from one device or multiple devices? b) 

will you need Internet access and synched folders? c) 

do you need all files on all devices?

Avoid storage duplication. Some people over-backup their files and store the same files on multiple internet accounts or devices. This can make file management a nightmare.

Don't risk with cheap or free services. It's better to be selective and spend some money to better execute your strategy.

Spread your backup to take advantage of great services for less cost and, reduce your risk. For example, you can auto-backup your phone pictures on the phone carrier cloud, and, your other files on another cloud storage account.

Use encrypted USB with password protection. If you use a portable USB storage device, make sure you have plenty of storage space, encrypted hardware, and password protection on your USB.

Don't place everything in the cloud storage account. You must be selective and decide whether it makes sense to store your files somewhere in the cloud.

Don't sync all files in the cloud with all your devices. After you decide which files you want to save in the cloud, you must decide on which devices you want to sync your files. Each time you store files on a device, you risk losing the device and the files.

You can select the folders and files that you want to sync from account settings and preferences.

Activate dual account authentication whenever available. Many Internet accounts allow for dual authentication to make sure someone else does not get easy access to your account files.

Choose strong and unique passwords. Visit the identity theft blog page and search for the keyword "password" to find articles related to passwords and learn more about password management.

Change your passwords frequently. The password change frequency depends largely on how much risk you take based on the types of information you store on your devices and in the cloud.

Remove the files from your local drive on your device before selling or giving away the devices.

Set up your devices to lock automatically in case they are lost or stolen.

Consider a remote locate, lock or wipe service for your mobile devices.
Personal File Backup and Security Vendors
From a vendor selection standpoint, there are many personal file backup and security products and services which you can and must choose from carefully. Some services may already be available to you at no cost up to a certain level and then become paid services if you need to expand storage space or increase security features. Consider the following products and services.
SanDisk or Imation encrypted and password protected USBs,

Lookout mobile phone security to find, lock and wipe a device if they are lost or stolen. Although you can also use Lookout to backup photos, contacts and text messages, there are better options,

Cloud storage for large files (Google Drive, Dropbox, Microsoft OneDrive (Previously called SkyDrive),

Photo backup (Fliker, Google+, phone carrier cloud. 

Your phone carriers may offer cloud storage for backing up everything on your smartphone. If you need to share your photos and collaborate with others, a photo collaboration service such as the ones mentioned above are probably better but don't duplicate your file storage efforts by backing up photos on multiple platforms.
You may have to assess the products and services that you are using from time to time. Some of them get better and others get worse. Also, new services are continuously introduced which may be worth taking a look at.
Good luck.
Visit the computer security page after personal file backup an security.