Remote Smartphone Security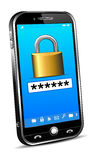 Remote smartphone security is more important these days as people store a ton of business and personal information on the cell phones. Like most people, you probably have a lot of valuable information stored on your phone such as phone numbers and pictures. Some people may even have confidential documents and personal information saved on their phones. Our phones also remember passwords, account usernames, and VPN access credentials to access our work network.
Have you ever thought about what could happen if you ever lost your smartphone?
Whether you have a personal cell phone or company provided phone, there is a chance that your phone can be lost or stolen. You and your company must be in a position to quickly locate, disable or wipe the phone data in order to prevent your information from falling into the wrong hands. Although some smartphones are stolen to be sold in the market and the data within may not be of importance, you should be less concerned about who stole the phone and what they intend to do with it because even if they just want to sell the phone to someone else, they are not going to care enough to reset the phone and wipe the data. This is why you should care and prepare in advance because the precautions you take before the phone is lost or stolen is much more important than what you do after the phone is gone.
Remote Smartphone Security Steps
For remote smartphone security management, there are many third party apps that once installed on your cell phone will allow you to backup your data on a regular basis and go to their website to locate a lost phone on the map, make a loud siren to find it in the house, disable the phone until it is found, wipe the phone data if the phone is not found within a reasonable period of time to prevent theft, and, restore the data on your new or found phone from the backup folder. When your phone is lost, you can replace the phone with money but you can't recover the lost data if you have no backup, and, you may face negative consequences if your information falls into the wrong hands.
Last but not least, if someone finds a lost phone before the remote wipe occurs, which could happen if the battery dies, or if there's no signal for the phone to receive the remote wipe command, a thief could disable the network connections and then do whatever he pleases with the phone. The best solution is to activate a screen lock while the phone is still in your possession and disable the handset as quickly as possible when the phone can not be found. This is not any different from calling your back to notify them that you have lost the credit card. Any delay in this process can place you at risk. A screen lock and quick disabling of the phone will just give you more time to look for the phone and less time to the thieves to achieve their goals as they have to scramble a few things to unlock the phone first. You can always re-activate the phone when you find it or even restore data after a remote wipe with your back up data but this is assuming that you have installed an application for this purpose, activated the screen lock, and perform regular backups with the application.
Visit the computer security page after reading about remote smartphone security.