10 Safe Holiday Shopping Reminders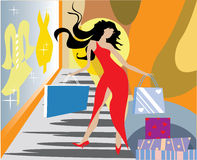 We've created these 10 safe holiday shopping reminders to help you keep safety and security one of the central points of your shopping spree during the busy holiday season. The holiday season is short and although it's upon us, it will be gone shortly. However, the consequences of incorrect shopping will stay with some of us for a while as we will have to pay back our credit card balances and deal with any potential credit fraud and credit score issues later. Therefore, as we get busy shopping during one of the busiest shopping times of the year, it is a good time to bring up the best 10 safety holiday shopping reminders.
Here's a quick list of the important shopping reminders:
1. Plan ahead. Have a general idea of what you want to buy and create a list of items you are looking to buy. This will not only save you hours of internet surfing but also keep your focus on your purchase objective and reduce impulse shopping which is something that will happen if you don't set an objective from the beginning.
2. Consolidate your shopping. Once you have a prepared list with a general idea of what you want to buy, you can visit a site or store that offers the majority of the items you are looking for. This way, you make one transaction to buy most of your items and share less of your personal information such as email address and credit card info.
3. Use the same credit card for most purchases as much as possible. Don't carry all your credit cards with you. When you carry fewer cards, you will know when the card is missing, you can more easily monitor transactions, and, you will have less work when you lose your wallet.
4. Shop from a company site you can trust. Look for the lock sign on the website or HTTPS in the beginning of the web address (URL). This is probably the second most important item in the list of 10 safe holiday shopping reminders. (the most important is next). Read this article about safe shopping shopping.
5. Don't click email links. If you receive purchase offers in your email box from some companies, you must not click the email link right away to see the offer whether you recognize the company or not. This is probably the most important item listed in the 10 safe holiday shopping reminders. First, make sure the email is actually coming from a legitimate company by looking up their email address and NOT the displayed sender's name. Second, if you can't validate the sender, you must visit the company website directly by typing in the complete address in your browser such as www.theimi.org. There are plenty of email scams luring consumers with fake online deals to empty their accounts.
6. Don't leave your stuff in the car while shopping. Leaving personal items like phone, ID cards, credit cards, etc. creates additional risk especially if your car is parked for a long period in a secluded area where there are no lights or visible guards.
7. Fill up your gas tank fully and reduce the number of your transactions by unnecessarily filling up gas multiple times. Sometime you may be tempted to fill up your gas tank half way because you are in a rush, or you feel the place is too expensive. It's better to spend a few minutes to find the right gas station and time to fully fill up the gas tank.
8. Pay cash for small items or use gift cards. Small amount items like coffee are not worth risking your credit cards. Every time you use your card, you share you information and you become a little more identity obese unnecessarily.
9. Keep your stuff safe from pickpocketing by placing them in front of you.
10. Notify your bank immediately when you notice your card is missing or detect fraud. Some people may look for their missing cards for days and can be at a greater risk.
Return to home page after reading the 10 safe holiday shopping reminders.