Car Robbery and Identity Theft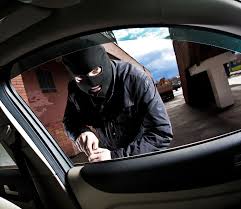 As evidenced by the following true story, sometimes, a car robbery and identity theft are related because identity theft is the direct or indirect result of the car robbery. As you will see, leaving your personal items in the car even for a short period can expose you to some serious risks which may include identity theft and lost wages, money, and time for recovery.
A woman who left her highly personal items in the car for a brief period became a victim of identity theft shortly after thieves broke into her car. Apparently, she had left her items in the car to go for a quick shopping spree. But unfortunately her items were stolen from her car and used to commit identity theft within 30 minutes.
She explained to the Police that within 30 minutes of leaving her car, she received a text on her cell phone which appeared to come from her bank. The text was asking her if she was using her credit card at a nearby store. The text offered an option to deny the transaction if she did not recognize the transaction. This is a great tool that some banks are using to detect and prevent fraud. She immediately replied "deny" while thinking that this was just a mistake or the text may not be real.
Soon she returned to her car and to her surprise, the car window was broken. After inspecting the car, she realized that her bag and other items had been stolen. The Police report indicated that her two backpacks were missing form her backseat which included many personal items.
The timing of this incident was great for the thieves because not only she had left her credit cards in the car but she had also left her ID card, a passport, and a loan application which included her social security number and information about her bank account balances, where she worked and lived, and how much money she was making
Unfortunately, the combination of these stolen items and information allow thieves to commit fraud very quickly as they know that it's a matter of time before the person discovers the theft and alerts the banks and credit reporting agencies to close her existing credit cards and prevent the opening of new ones. This is the main reason that fraud was committed within 30 minutes of the car robbery.
Avoiding this type of identity theft is very easy yet many feel that their items are secure in the car, especially if they are parked in an indoor parking structure or only intend to leave the car unattended for a few minutes.  Sometimes, thieves watch the parked cars or while they're driving in and out of parking lots to target their preys and when they don't find what they're looking for, they move to the next car. The best protection in this type of cases is to not leave anything valuable in the car and this goes for expensive watches, jeweler, and other personal items.
Even the appearance of having something of value in the car can trigger a car break-in which can result in expenses for car damage repairs. Plus, even if fraud is not committed with stolen IDs and credit cards, just the hassle of ordering new ones and waiting in lines is enough to be more prudent. Thieves may break into a car for a specific purpose, but the end result may be stolen identity and expensive sun glasses, watches, jewelry, cameras or camcorders, laptops, tablets, any anything else that can quickly be converted to cash. Leaving your personal items in the car even for a short period can expose you to some serious risks which may include identity theft and lost wages, money, and time for recovery. Always make sure that when the car is not attended by someone trustworthy that you make sure you don't leave valuable in the car even for short trips.
That said, if you leave your car for multiple hours or days at the airport or valet parking, make sure you also don't leave your home cars, garage door opener, and address because the combination of all three can be devastating when left unattended for an extended period of time especially when thieves know that you are not coming back soon to get your car.
From a business perspective, there have also been cases of stolen laptops from cars which had not been encrypted. This type of careless handling of proprietary data and consumer information can quickly become a nightmare for companies. 
Learn more about car robbery and identity theft.