Car Selling Precautions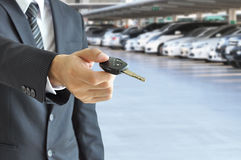 When you decide to sell your car, there are certain car selling precautions that you must consider. These precautionary steps are necessary to prevent the buyer from abusing the car while it is still registered under your name as current car owner.
One of the first things that car owners do to sell their car is to decide where to place their intention of selling the car. Some may just post the sale price and phone number to the car window and others may consider to pay for online or paper advertising. Regardless of how we decide to advertise the sale of the car, we have to be cautious about sharing too many pieces of personal information. After all, out of thousands of people who see our car sale ad, only one will end up buying the car and the rest will just retain the information about us.
Other car selling precautions include the location where potential buyers meet us to inspect and hopefully buy the car. It is preferable that the car sale ad does not disclose our home address and that all pre-screened buyers are instructed to meet at a public location where there is plenty of light and traffic. The buyer screening process is very important to determine their motivation and capability for buying the car to maintain safety and security as well as efficiency.  
Also, depending on where you live, there is a strong possibility that you may have to report the sale of your car to the department of motor vehicle in order to change the car ownership and release any and all liability arising from future incidents impacting the car and its owner. The process of timely reporting the car sale is very important because there may be notification deadline requirements and also you want to release all liabilities from the moment you let the other person drive away with your car. All cars have a title document which must be properly filled out and mailed to the appropriate motor vehicle address.
After you have properly reported the sale of your car to the authorities, you should then cancel your insurance to save money, however, follow these car selling precautions and only cancel your insurance after you have properly reported the sale of your car or you will be responsible for all damages without the insurance.
Lastly, make sure you complete a bill of sale which includes the details of the sale such as date, price, car odometer, buyer's name, address, driver's license number, and signature. A bill of sale is a very important legal document that serves as a record of a sale and provides details of that sale. You can search online by typing "car bill of sale" and you should be able to find a copy that you can download and complete as much as possible and be ready to complete the rest at the time of car sale. In most places, this document is not mandatory however it is an important document which releases you from liability from the moment the car is sold but just make sure you capture all the buyer's information including the signature and don't forget to mark "sold as is" to make sure the buyer understands the liability release. Also, always have 2 copies ready to be signed and retained by you and the buyer.
Visit the car security page to read about other car selling precautions.