Lookout Cell Phone Security Software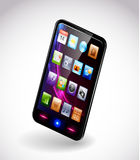 The Lookout cell phone security software is one of the top smartphone security tools available in the market designed for both iPhone and Android cell phones which can protect your smartphone in many ways. While you use your cell phone or when your phone is missing, the Lookout software is active and keeps your data safe from viruses, malware, and hackers. The software also offers other benefits which we will discus.
First, Lookout cell phone security software scans the applications that you download and websites that you browse to make sure they are free of malware. Smartphone malware can be installed on your phone in a variety of ways and can steal your personal information stored on the phone. Malware can be easily transferred through applications downloaded to your phone, email attachments, text or other media messages and Bluetooth connections. When a file is received on your device, the lookout security app scans for any suspicious data that may be hidden inside the file and if any threats are found, Lookout warns you and eliminates the file. The software privacy feature tells you which applications can access your information.
The GPS features also give cell phone owners the ability to locate, lock and wipe the phone remotely. If your cell phone is missing, you can log into the Lookout website to locate the phone on the map. You can also activate a loud alarm on your device, even if the phone is on silent mode. Even if the location tracking (GPS) on your lost phone is turned off, in some cases, Lookout can turn it on remotely and your lost cell phone will appear on the map within minutes.
If you think your phone has been stolen or if you are unable to find the missing phone and decide that it's time to buy another phone, you can wipe the data from the phone from the website. This prevents anyone from accessing your phone information if the phone has fallen into the wrong hands.
In case you wonder about your recovering your lost data, the Lookout software allows you to backup your data to a secure cloud server and then use the stored data to restore all your information on the new phone or the recovered phone if you find it.
Lookout Cell Phone Security Software Features
The Lookout cell phone security software offers free and premium services. With basic free services, you receive automatic protection from viruses, malware and spyware, find your lost or stolen phone on the map, and save a copy of your contacts. With Lookout premium services for which you can choose to pay monthly or annually for a discount, you receive more comprehensive security features for your smartphone such as:
1) Privacy Advisor which shows you which of your apps can access your personal information like location, contacts, messages and identity info, so you can make better informed decisions about which apps to download and keep on your phone,
2) backup photos saved on your phone to a cloud server and schedule regular automatic backups,
3) lock you phone remotely so no one can access it,
4) wipe your phone data remotely including the SD card, and
5) activate a loud alarm or siren to locate the phone if it is nearby.
The Lookout mobile phone security software is easy to use and can even be useful if your phone is broken and you need to restore your lost photos and contacts. Lastly, turn off phone features that you don't use like Bluetooth or Wifi. You my be using these features in the car, office, or home, but, you may not need them in other locations. Often, these features remain active even if we don't use them and they present unnecessary risks.
Learn more about remote smartphone security after reading Lookout cell phone security software.