Smartphone Theft Statistics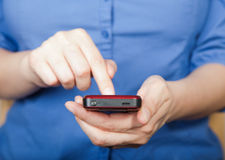 This article outlines some important smartphone theft statistics which must be taken into consideration by cell phone owners who are concerned about their phone security. The statistical conclusions of this article are the results of a survey conducted by IDG Research on behalf of Lookout cell phone security software company to collect information from victims of lost and stolen smartphones.
According to Kevin Mahaffey, co-founder and chief technology officer of Lookout "The reality is that one in 10 U.S. smartphone owners are victims of phone theft, and 68 percent of those victims are unable to ever recover their device after the theft occurred. This is an issue that is bound to keep growing." He also said in a statement that "While there isn't one single solution that is going to alleviate phone theft, the problem can be stifled with industry collaboration, technology and widespread awareness for how to stay safe."
Stolen and lost phones can not only result in some important and valuable data from never being recovered such as photos but also personal data can lead to identity theft and fraud. Cell phone protection tools and backup plans in case the phones are lost are very important considerations. Read the statistics below and then learn how to protect and create backup plans for your smartphone safety.
List of Smartphone Theft Statistics
Below are some high level smartphone theft statistics that cell phone owners must pay attention to if they want to protect their phones because wisdom is learning from mistakes made by oneself or others.
About 12% of phone theft lead to fraudulent charges and 9% to identity theft.

About 60% of smartphone theft victims file police reports.

10% of victims do not make any effort to find their phones because they don't know where to start. 

Victims are likely to pay $500 to $1000 to retrieve the personal data including photos, videos, music and other personal data.

Forty-four percent of thefts happen because the victim left their phone unattended in public places.

14 percent of smartphones are stolen from a car or house that was burglarized.

11 percent of phones are stolen directly from the person, such as out of their hands, pockets, purses or bags.

Devices are more likely to disappear in the middle of the day. For example, 40 percent of victims said their smartphone was stolen between lunch time and the end of the work day (between 12 p.m. and 5 p.m.), compared to 18 percent of victims whose phones were stolen between 10 p.m. and 5 a.m.

Top places to have a phone stolen include restaurants (16 percent), bars or nightclub (11 percent), workplace (11 percent), public transportation (6 percent), and on the street (5 percent).
Read a review of the Lookout product after reading smartphone theft statistics to protect your phone.